Whether you're hosting a corporate party, private gathering or are planning your wedding reception, it's time to make the most out of your outdoor space. Get outside and enjoy the last moments of summer.
You may be using your own back garden to host an intimate gathering, or be blessed with a venue that has heaps of outdoors space, trust us when we say that there are always ways to create a homely and welcoming feel. Bringing the inside out is one of the hottest trends of 2019, and shows no sign of disappearing in 2020.
1.Start the Fire
Once the sun goes down the temperature can drop quickly, at this point your guests would usually seek solace inside, but why say goodbye to your outdoor space so early in the evening when it has so much to offer? Add a fire pit to the equation and continue the party without catching a chill.
Allow your guests to enjoy the outside as the stars come out, and create more amazing memories at your event. We don't make the rules, but we would highly recommend that your fire pit comes with a large stock of marshmallows and skewers.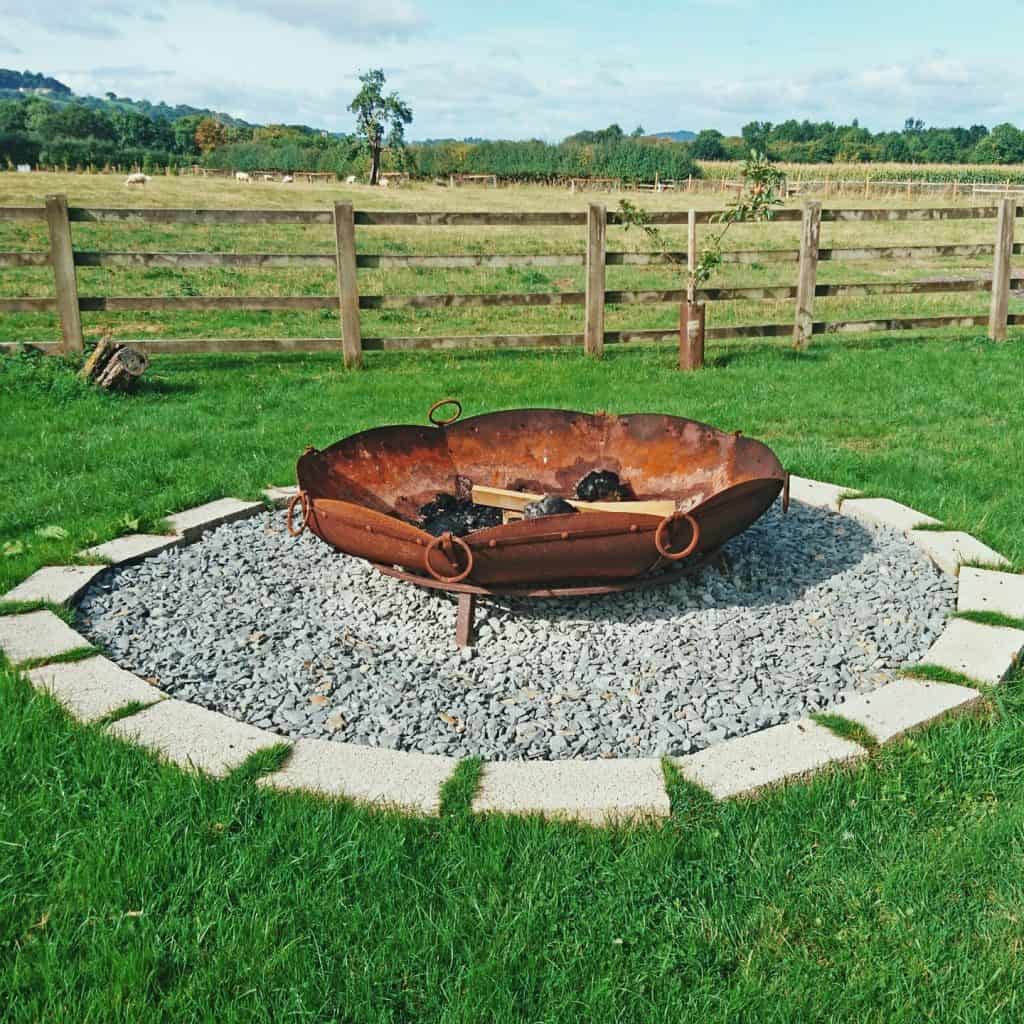 2. Shine a light
There is no need for the fun to stop once the sun goes down. Putting in outdoor lighting to your event is key, and will encourage the good vibes to continue long into the night, allowing you to make the most of your chosen venue. Our Fairy Lights and Copper Lanterns will help you to create some much-needed ambience, whilst creating a wonderfully magical feel and warm atmosphere.
Scatter lanterns along the pathways and hang fairy lights from trees to create various levels of lighting and a dramatic backdrop.
3. Grab a pew
With the right seating you can create a unique outside set up in no time. We have Sleeper Benches, Circular Benches and German Beer Benches/Tables if you fancy creating an inviting space for your guests to relax in. Or if you want to make an al fresco dining area, we have Rustic Benches, Trestle Tables and Tolix Chairs, along with classic Picnic Benches to create an eating space.
The correct furniture is an essential part of pulling off your event, and in making your guests feel welcome and relaxed. Our pieces are stylish and versatile, and can be adorned with napkins, throws and candles to fit into your colour scheme or theme.
4. Create a Chill-Out zone
To create the perfect atmosphere think of your outside area as an extension of your inside space. Add Persian rugs, neutral cushions and bean bags to take the comfort level up a notch, and create the perfect area for your guests to put their feet up and laze.
Layer your textiles, including some fluffy throws for the cooler hours. These small additions will make a huge impression to the look and feel of your outside space, and will encourage your guests to utilise it. Soft furnishings are easy to style, with warm neutral colours proving particularly popular right now. Add a rustic coffee table to place drinks and nibbles if you really want your outside space to become an extension of your living room.
5. Throw some shade
Whilst we are still trying to make the most of the sunny days, you don't want your guests to bake in it all day. Provide some shade and protection from any unpredictable weather spells (we are in Britain after all) by adding some parasols or gazebos to your venue.
Chuck the aforementioned soft furnishings underneath and you have a great space for your guests to relax. Pick a spot with a great view of your event, and decorate with bunting to add more colour.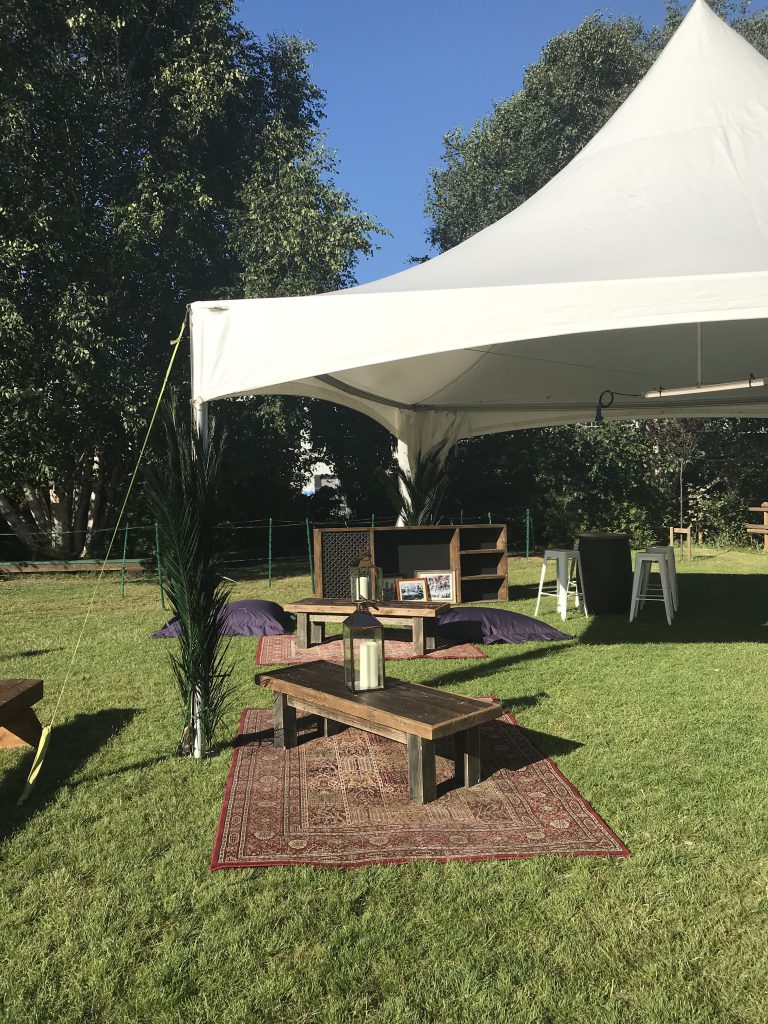 6. Create a divide
Add depth to your space and encourage your guests to explore their surroundings by creating individual zones and private areas for your guests to explore. Use fence dividers or planter walls to cordon off areas that can then be used for entertainment, socialising, al fresco dining or a pop-up photobooth. These can create great talking points for your guests and gives off the ultimate secret garden party vibe.
Dress these areas with fairy lights, foliage or photographs to increase its decorative value.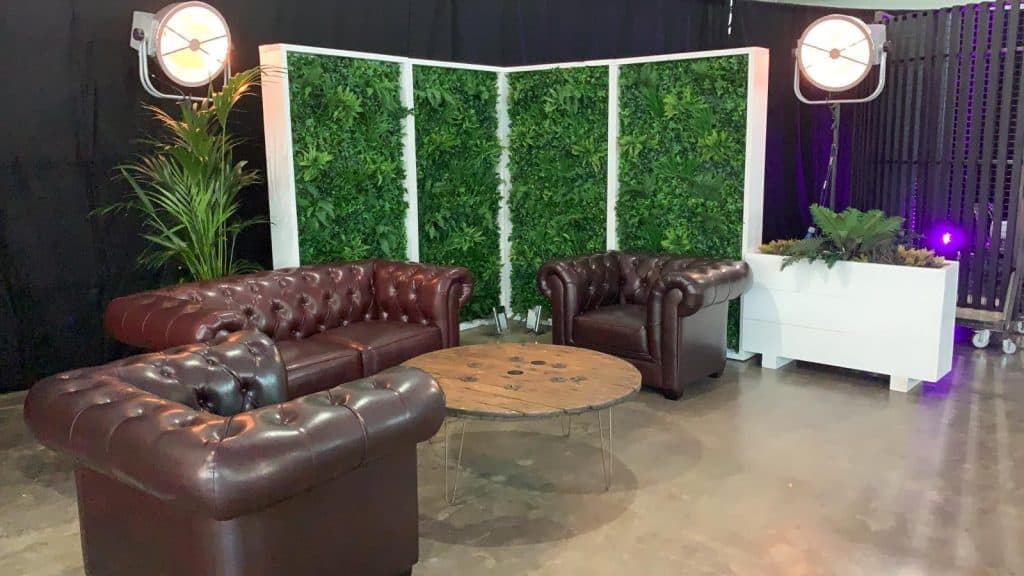 7. Get the drinks flowing
There is no cooler addition to your event than a personalised DIY bar to keep the drinks flowing for your guests all day long. Curate a cocktail menu or stock it with some local ales, and allow your guests to wind down and stay hydrated.
This doesn't have to be a daunting task. Our Rustic Bar can be customised to suit any venue size or shape whether it be a garden party, wedding or festival and is easy to set up. In addition to this, illuminate the space with our light up 'BAR' sign and show your guests the way to the heart of the party.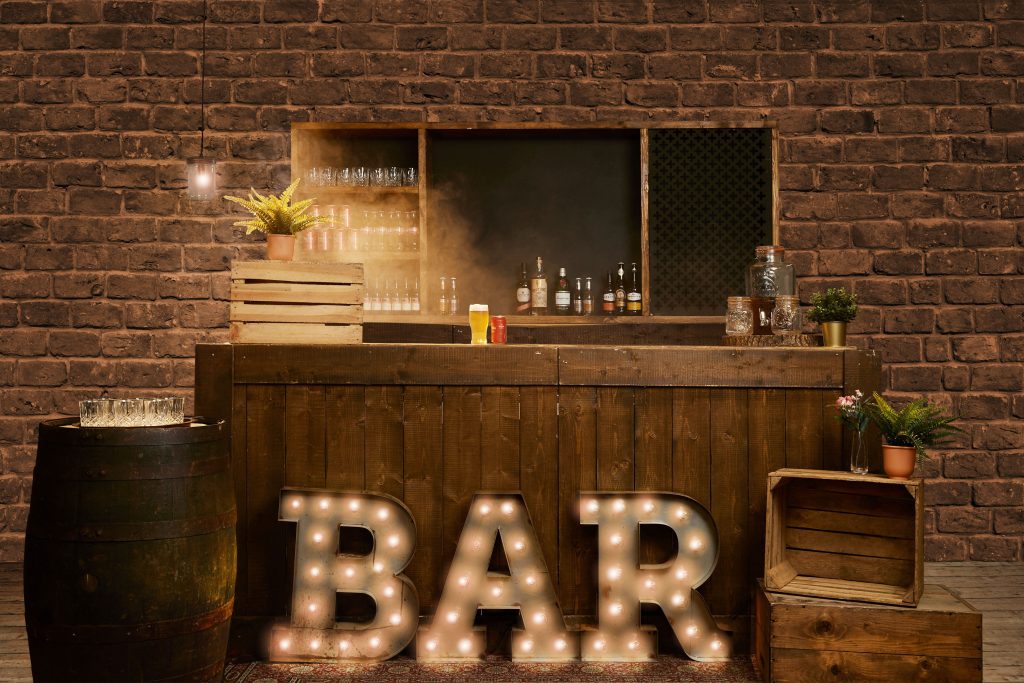 All of our products can be hired on a short or long term basis. If you are looking to throw an outdoor soiree, please get in touch to find out how we can transform your venue into a unique setup.